ARTX30:

A celebration of kindredship through the arts
2020 was a year never to be forgotten. The world around came to know of a global pandemic of a scale that rivalled past pandemics. On a more celebratory note, 2020 was also a significant year as it marked 30 remarkable years of diplomatic friendship between 2 great countries: China and Singapore.
Over the phone, 2 good friends who have known each other spanning more than a decade from both countries would give birth to a noteworthy project to celebrate this kindredship. Maggie Chen Mei Qi, from the People's Republic of China, first mooted the idea of an art collaboration between young artists from China and Singapore to Melvyn Goh in March 2020. Melvyn, a Singaporean who had been living and working in China for more than 15 years, was taking a prolonged visit back in Singapore due to COVID-imposed lockdowns. He immediately embraced the idea and saw an opportunity of giving back to a country in which he not only forged many great friendships through the years, but this country also gave him many great career breaks.
Against the backdrop of lockdowns caused by the pandemic, the collaboration quickly gained traction. Through a lunch initiated with two diplomats and a business leader based in Beijing for more than two decades, they helped bridged the idea. ARTX30 would receive ardent support from Singapore's Ministry of Culture, Community and Youths (MCCY) and the National Arts Council (NAC), China Green Foundation, Nanyang Academy of Fine Arts (NAFA) and respectable individuals from the art communities from both countries.
12 young and promising from China and Singapore were specially selected and paired for the cultural diplomacy collaboration which transcended borders, art forms and languages barriers. The organisers of ARTX30 – G20 Young Entrepreneurs Alliance, U30s and Nanyang Academy of Fine Arts – enlisted the capabilities of respected arts curator Michael Lee, veteran film-maker Tan Siok Siok, plus 4 art mentors and influencers and a strong support team. The unique journey of ARTX30 began. It is unique because the artists created the works in pairs and across borders and experimented with digital art, and because it is where the curator meets the film-maker in the final presentation of ARTX30.
ARTX30 is the happy fruition of different stakeholders bound together by kindredship——the cherished diplomacy between 2 great countries, the kindredship between 2 dear friends, the kindredship of creators and mentors unified by their love for art and friendship. ARTX30 is also proud to showcase the finished artworks of these talented promising artists which show the fascinating kindredship between more established art forms and new, emerging, and exciting trends of new media digital art and cultural diplomacy.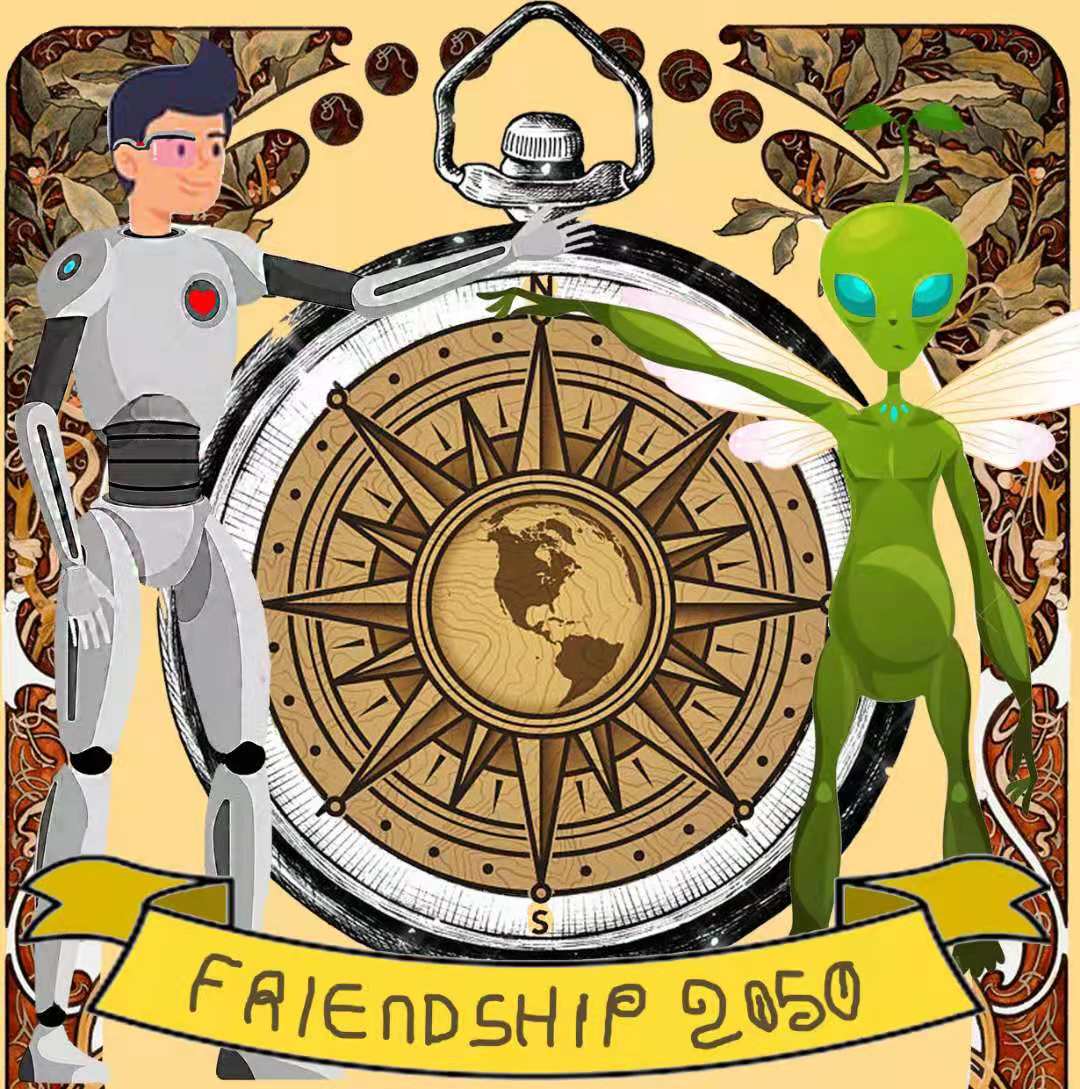 The collaborative 'Friendship 2050' symbol by Li Mowen and Loi Cai Xiang, as part of the pair's initial artistic proposal at the start of their month-long collaboration during Jan 25 – Feb 26, 2021.