ARTX30 created a testbed for 12 artists to create works that celebrate the 30 years of diplomacy between Singapore and China and bond with both countries – by hypothesising what friendship is like in future 2050. Two topics were reflected – Cultural Diplomacy and Partnering in Art – Seeking Meaning through Friendship.
A total of 12 participants attended the China fireside chat and 8 participants attended the Singapore fireside chat that lasted about 50mins each to reflect on their experiences and takeaways. Special guests including ex-diplomat, renowned artists, curator and art academia were invited.
Cultural Diplomacy
Fireside Discussion (China) @ 29 April 2021, 7.00 pm
Ambassador Kuang (Retired)
Diplomat from People's Republic of China
G20 Young Entrepreneurs' Alliance
Partnering in Art – Seeking Meaning through Friendship
Fireside Discussion (Singapore) @ 29 April 2021, 7.30 pm
Art Specialist / Educator
Summary on Cultural Diplomacy
In responding to the question on what advice to give the young China artists in regard to art diplomacy and how can they be "informal diplomats" using art to foster friendship, Ambassador Kuang, who held previous diplomatic roles in Washington , South Africa and London replied that he would encourage the young artists to visit the places like Singapore when the travel restrictions are lifted, open to making art and making friends using various platforms available, both online and offline and to exhibit their artwork internationally. He added that, "Art is vastly different from politics.
Renowned Chinese Artist Mr Hang Chun Hui was impressed by the 12 artists who actually work together to construct a complete work of art. He was intrigued by using modern technology and the medium of the internet these emerging artists have bridged a physical space and a temporal space and a new possibility has emerged. Hang commented that through this project, relationships between people, works, space and time emerge in a virtual dialogue process between the artists. Throughout this work (ARTX30 project), the future of art forms is taking place.
Art Collector Min Tao commented that ARTX30 looks to reflects upon 30 years of friendship and envision the next 30 years. He commended the organizers for delivering a successful project, despite the pandemic had try to overcome isolation by making art together, and friendship. In particularly, how the curator managing 12 artists through a 30-day assignment, the language barriers but also meeting the technological challenges of different digital platforms and new breakthrough approaches on how new art can be created. "In fact, ARTX30 is indeed a piece of ART itself" Ming Tao praised.
The panelists also chipped in their ideas for the next potential development. ARTX30 Co-founder, CEO of G20 China Youth Council, Mr Han Tian Qi envisioned an "ARTX30-2.0", "When I was young, I once wanted to be a musician. I almost went into a music career. So, I would want to expand and explore the scope and medium of cultural diplomacy, and to perhaps include music in ARTX30 -2.0'. While as for ARTX30 Community Partner, Natalie Yu adds that "I would include Art, Music and Dance in ARTX30 -2.0".
Adding on the experiences , Artist Ma LingLi, Zhozagri & Lui Ye Fu commented, "For the last few months, it has been a very relaxing project despite a one month 30 days challenge daily assignment. Most important, this experience has also enabled them to build friendship during the pandemic. We still keep in touch every two weeks via WeChat". Artist Li Mowen mentioned "during the pairing process, I like people who liked me as it gives me a sense of security. More importantly, when I was chosen by the Singaporean artist Cai Xiang, I immediately reciprocated and pick him to be my partner. It was like a mutual chemistry and liking".
On the art-making process and her collaboration with Singapore Artist Tan Zi Xi, Artist Liu Jia Yu, elaborated on the challenges for her to have something drawn. Instead, the duos' ultimate approach was to combine illustrative art with digital art while using coding to predict how friendship will be like in 2050. "I like our complimentary background", Jiayu recalled, "Zi Xi is strong in illustrative art. I did not draw but used coding to create digital art." ARTX30, Co-Founder Maggie added that she was "very overwhelmed with emotions when she saw the final artwork of Jia Yu and Zi Xi."
Melvyn Goh, founder of ARTX30 concluded that through ARTX30, he hopes that this will be a platform of cultural diplomacy between Singapore and China youths in the areas of art, technology, food, travel, etc. The fireside chat was moderated by Maggie Chen, Co-Founder ARTX30.
ARTX30, Fireside Chat (China) @ 29 April 2021, 7.00 pm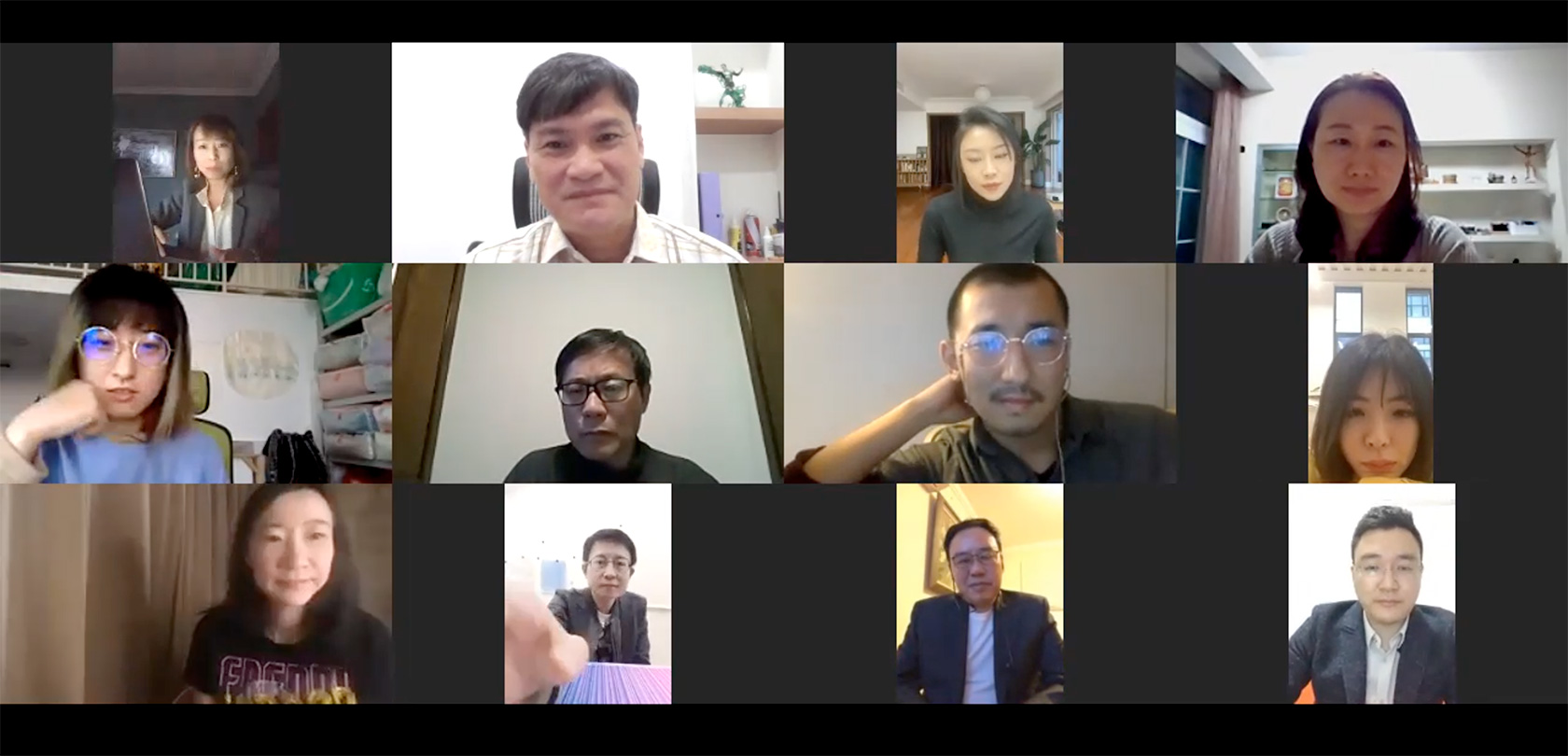 Photograph of ARTX30, Fireside Chat (China)'s Panellists and Guests
Summary on Partnering in Art – Seeking Meaning Through Friendship
In sharing the concept to host the art exchange that was different from the traditional format, such as hosting physical exhibitions, and that artists from both countries will contribute artworks, and then the exhibition might travel or there might be a concurrent, two exhibitions. Curator Michael Lee commented that he has personally participated in collaborative work in the past with foreign artists with an experience that was not quite enriching. Hence, he shared openly with Siok Siok the film producer, to developed different programmes to make this work, the most talk-about fun challenge by the artists was the daily prompt.
"There is the artwork that each pair will be making within 30 days, every day, they will respond to some from right like, like, try to draw your partner as a superhero or eat with a partner or some stranger or something like that." He added, "So we kind of like put down a number of milestones and aims like okay, we don't want it to stretch too long, we want it to be manageable, yet meaningful." He added, "this idea that we must have the daily prompt, but it has to do with engagement."
Both the panellists agreed that it is easy to drift without some form of guide. Art Educator Ms Cleo Thang commented, "I really like the overall look, which is friendship tapestry. That caught my attention because I was really captivated by the colours and the arrangement, because it was like, it plays this game, right. So very attractive. So that kind of captivated me". She added, "Overall, I would say that I think the participants really were trying very hard to portray the idea of the relationship between the two artists, not necessarily friendship, though. It's more like the relationship between the two people trying to work together, two strangers trying to work together. That is the kind of raw feeling I get from the overall work. I mean, there are happy moments as well as frustrations. And some works are quite obvious. I don't know when it's deliberate or not".
Ms Tan Yen Peng, Art Curator and Educator, also commented on the concept of collaboration between two individual artists versus being friends, she said "there's this difficult part about the individuality expect, and then having to collaborate with someone and not just anybody, but someone whom you totally have not met before". She mused, " And even more scary for me is later when I realised that you are doing a 30 days challenge and a task every day, that's really intense!" She praised the effort of the artists and the collaborative format, "So I think I really applaud these artists for committing I think that's really difficult. I also think about the plus side of this intensity because I think artists are drifters, sometimes like me personally, I'm a drifter, and I can be very out of focus, and I can just wander about and have no production at all."
On the basis of creating artwork in partnership, Ms Tan also commented that the element of "forced-relationship" maybe detrimental to an individual artists expression, but good in a way that it might perhaps trigger certain potential that has been hidden somehow. Later the group agreed collectively that the friendship component in this programme is similar to 'arranged marriage'. All collectively agreed that hard work is required in order to make relationship work.
Cleo observed that some of the works were presented as duo and some duets. Michael responded that one of the KPIs of success of any project is creating differences and diversity. Citing example of Fazleen and Su Yong's work, "And I think if we were to consider the use, blended illustrated flowers, blended with new media as one end of the continuum, where two of them are actually the practices blend and merge".
Siok Siok who witnessed in most of the online discussion commented that she found the process of connecting intriguing, as she felt the serendipity of it points to the fact that relationship is hard work and takes effort to sustain. "So I think this attempt to make a friendship that attempts to make something together that I just find quite poignant", she observed, "Some of them settle on something very quickly, and it seems to go very smoothly. It's very kind of workman-like, but there are others who seem to keep cycling through concepts such as something they can actually do together."
Artist Loi Cai Xiang commented that he was looking forward to how open the artists are in terms of personal and cultural influence, and some shared that they travelled around the world for work, and some have lived in another place for a couple of years. He felt that was a very important culture to be incorporate it into this collaboration. Artist Ang Xue Ning joined the project in hope to make friends, being the youngest, she was paired up with the oldest in the group and enjoyed the collaboration without the stress of age gap or hierarchy. They are still in regular contact after the project. Jaxton commented that the experience was valuable and triggered interesting new work with new friends.
The panel also discussed a potential online exchange format for elder artists, to see how the digital challenge and concept of idea sharing may trigger new notion of collaboration. In conclusion, the panel felt that it was an incredible experience, while it was challenging to work with an artist on top of the 30 days problem. The biggest takeaway is the human outreach to make new friends. The panel agreed that as long as two parties put in the effort that will be resolved, there will be a future.
The Singapore fireside chat was moderated by Oscar Ng, ARTX30 Advisor, and Head of Alumni Relations, NAFA.
ARTX30, Fireside Chat (Singapore) @ 29 April 2021, 7.30 pm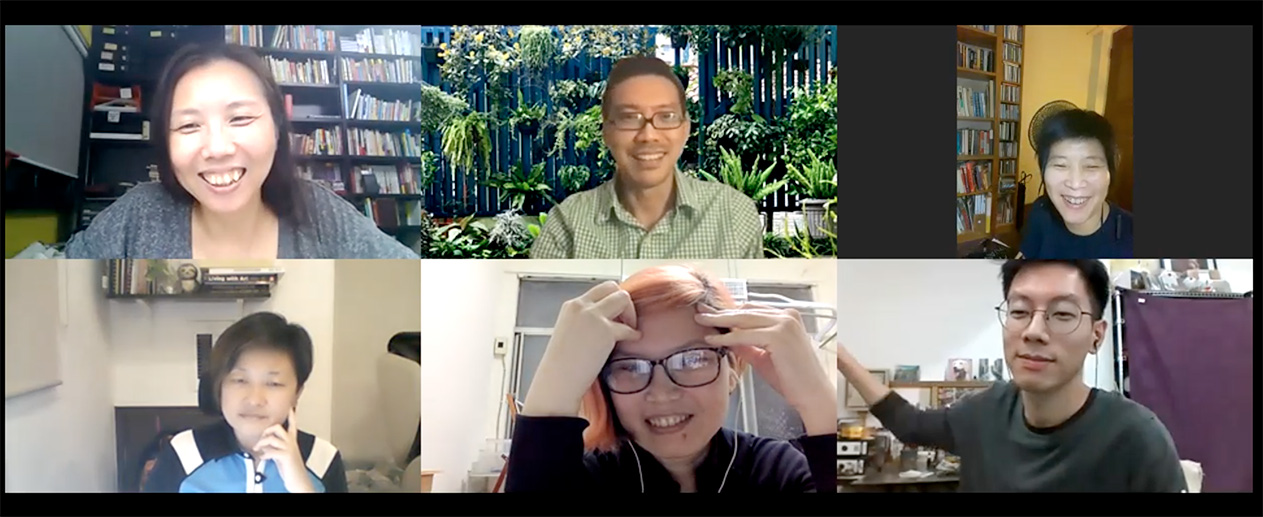 Photograph of ARTX30, Fireside Chat (Singapore)'s Panellists and Guests